Dental Implants Fort Collins, CO.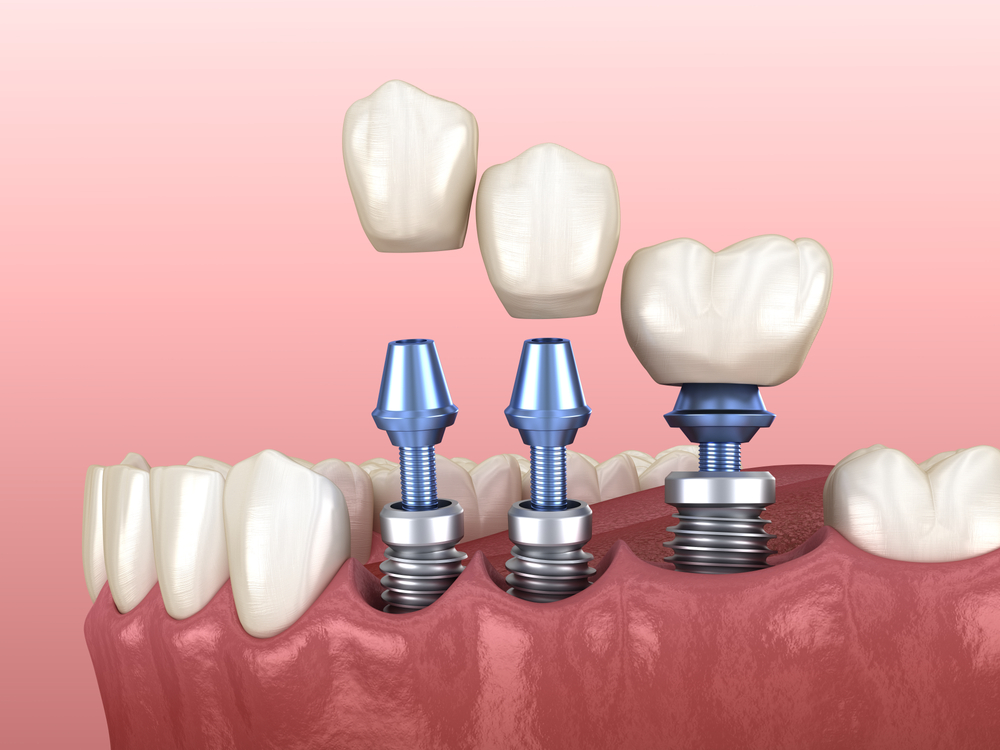 Taking care of our teeth is crucial, but sometimes tooth loss is unavoidable due to decay, gum disease, or injury. However, dental implants offer a solid solution, restoring not only your smile but also your confidence and oral health.
At Ray Dental, we are here to help you protect, preserve, and restore your teeth. Learn more about dental implants below, and give us a call to schedule an appointment.
What Are Dental Implants?
Dental implants are an effective long-term solution for missing teeth. Essentially, they are artificial tooth roots, typically made from titanium, providing a strong foundation for the placement of an artificial tooth or a dental crown.
Unlike dentures or bridges, dental implants are surgically placed into the jawbone, creating a strong bond through a process called osseointegration. This makes dental implants highly durable and ensures they feel and function just like natural teeth.
Who Needs Dental Implants?
Dental implants are a versatile solution suitable for anyone missing a single tooth, multiple teeth, or even a full mouth of teeth. They are particularly beneficial for individuals who have difficulty wearing removable dentures, offering them a more secure and comfortable alternative.
In addition, individuals suffering from periodontal disease, commonly known as gum disease, may find dental implants helpful. While implants don't prevent gum disease, replacing severely damaged or decayed teeth with implants can help maintain oral health and prevent further complications.
Furthermore, dental implants are also an excellent choice for those who wish to improve their quality of life by restoring their smile. They offer a more permanent and natural-looking solution than other tooth replacement options.
How Dental Implants Are Placed
Consultation and Treatment Plan: The dentist will conduct a thorough examination, take x-rays, and discuss the best care plan for your specific needs.
Implant Placement Surgery: Under local anesthesia, a titanium implant is surgically inserted into the jawbone to replace the tooth root.
Healing Process: The implant needs time to bond with the jawbone, a process called osseointegration. This healing process can take a few weeks to a few months.
Abutment Placement: Once the implant has bonded with the jawbone, an abutment is attached to the implant which will hold the new tooth.
Final Restoration: The artificial tooth or dental crown is attached to the abutment, completing the implant procedure.
What Are the Benefits of Dental Implants?
Feel Like Natural Teeth: Dental implants function, feel, and look like your own teeth.
Improved Oral Health: Unlike bridges, no alteration of the adjacent teeth is necessary for implant placement.
Durability: With proper care, dental implants can last many years, or even a lifetime.
Convenience: Dental implants eliminate the inconvenience of removing dentures, as well as the need for messy adhesives to keep them in place.
Dental Implant Restoration
Even though dental implants are durable, they might need restoration over time due to normal wear and tear or damage. This could involve replacing the crown or, in rare cases, the entire implant. Regular check-ups are important for monitoring the condition of your implants and intervening early if any issues arise. If there are any concerns with your dental implant, we have some of the best restoration options in the industry, and we can make that implant look as good as new.
Contact Ray Dental for All Dental Implant Needs in Fort Collins, CO
For the best dental implant solutions in Fort Collins, trust Ray Dental. Our team of experts will ensure you receive the highest standard of care throughout your implant journey. If you're ready to restore your smile and confidence, contact us today to schedule your consultation and discover if dental implants are right for you.