Dental Technology Fort Collins, CO.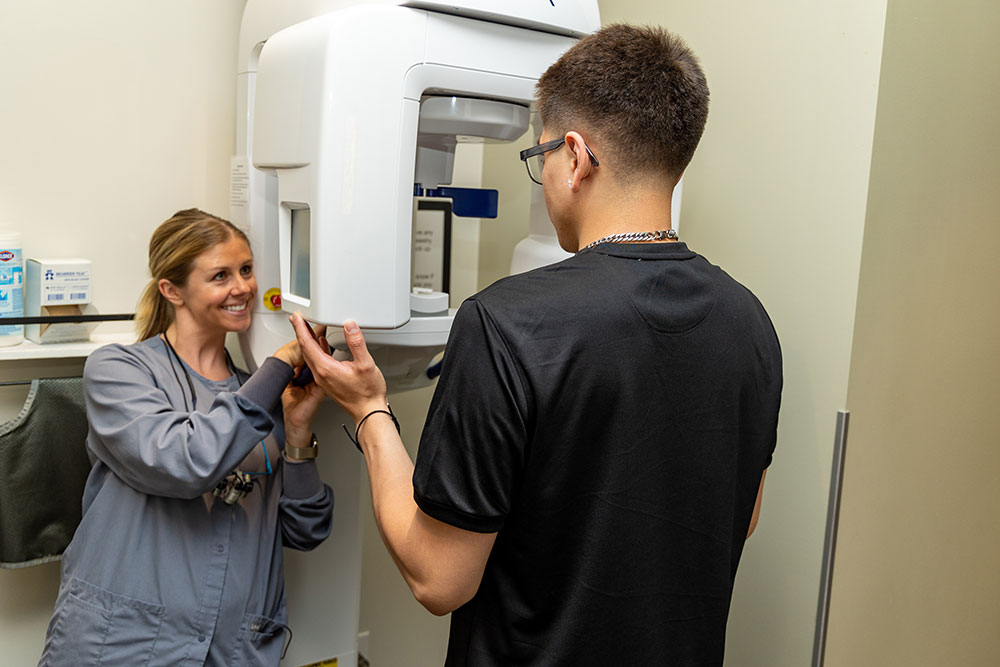 The field of dentistry has greatly benefited from numerous technological advancements in recent years. From improved methods for treating dental caries to new ways of creating dental prosthetics, these innovations are transforming the patient experience and the dental industry. They not only make procedures more efficient and comfortable but also enhance the precision of diagnoses and treatments.
Ray Dental works hard to stay at the forefront of these advancements in Fort Collins, CO. We utilize a wide range of dental technologies to provide high-quality patient care. From digital x-rays to laser dentistry, our office is equipped with the latest tools that allow our dental professionals to provide superior dental care services.
Digital X-Rays
The transition from traditional x-rays to digital x-rays represents a significant improvement in the field of dentistry. Digital x-rays produce immediate, high-quality images with less radiation exposure. These detailed images help clinicians in detecting dental caries, identifying cavities, and planning dental treatments such as implants and root canals.
Moreover, the images can easily be stored in a patient's digital file, enabling easy access for future reference. Digital x-rays also support teledentistry, as the images can be shared via the internet, providing convenience and flexibility for both patients and dentists.
Ray Dental is committed to patient safety, and as such, we use digital x-rays, conforming to the American Dental Association's (ADA) guidelines.
Intraoral Camera
The intraoral camera is another powerful tool in modern dentistry. This small device can be moved around a patient's mouth, capturing detailed images of hard-to-reach areas that may not be visible to the naked eye.
This technology improves patient care by allowing for earlier detection and treatment of potential issues. It also enhances patients' experience, as they can see what the dentist sees, facilitating a better understanding of their oral health status and the proposed treatments.
At Ray Dental, we use intraoral cameras in our dental exams. This technology, combined with our dental professionals' expertise, ensures thorough evaluations and personalized treatment plans.
CAD/CAM
Computer-aided design (CAD) and computer-aided manufacturing (CAM) have revolutionized dentistry. These technologies allow the design and manufacture of dental restorations, orthodontic appliances, and prostheses with exceptional precision and speed.
With CAD/CAM, dentists can create restorations like crowns, veneers, and dental implants in a single visit. This reduces the need for multiple appointments and eliminates the discomfort of physical dental impressions.
At our dental office, we use CAD/CAM technology for many of our dental procedures, providing our patients with quick, efficient, and highly accurate treatments.
Digital Impressions
Digital impressions have replaced the need for traditional dental impressions, enhancing patient comfort and precision. These impressions, captured by scanners, create a highly accurate 3D digital model of a patient's mouth.
Ray Dental utilizes digital impression technology for a variety of procedures, including the creation of crowns, dentures, and orthodontic appliances. By doing so, we streamline the dental treatment process, ensuring that our patients spend less time in the dental chair and more time enjoying their new smiles.
Laser Dentistry
Laser dentistry offers a less invasive alternative to traditional dental procedures. It can be used for various applications, including cavity detection, teeth whitening, and gum disease treatment. Lasers offer a high level of precision, reducing the risk of damage to surrounding tissues.
At Ray Dental, we incorporate laser technology into our practice, offering our patients a more comfortable and efficient treatment experience.
For the Best Dental Technology, Call Ray Dental To Schedule an Appointment
Technology continues to shape the future of dental care, and at Ray Dental, we are proud to be part of this revolution. Whether you need a routine checkup, restorative work, or cosmetic enhancements, you can trust our team to leverage the latest dental technologies for your benefit. Call us today to schedule your next appointment and experience the difference that cutting-edge technology can make.