Dental Bridges Fort Collins, CO.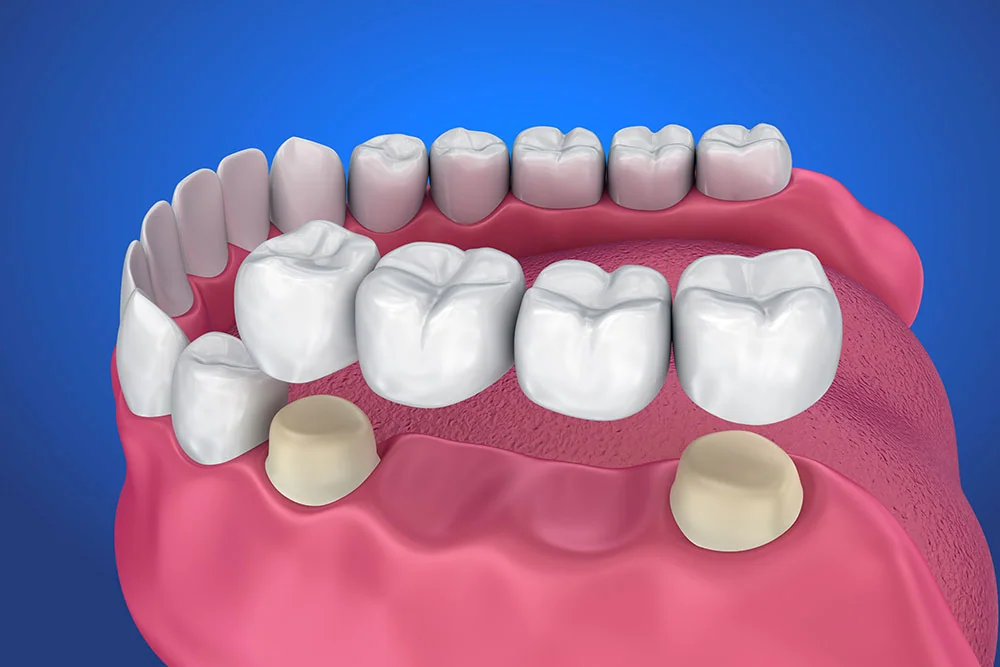 The loss of a tooth, or multiple teeth, can impact more than just your smile. It can affect your bite, the shape of your face, and even your overall health. Thankfully, modern dentistry offers solutions like dental bridges that can restore function and aesthetics to your mouth.
Located in Fort Collins, CO, Ray Dental provides a comprehensive array of dental services, including the placement of dental bridges. Our experienced and dedicated team aims to deliver personalized dental care that meets the unique needs of each patient.
What Are Dental Bridges?
A dental bridge is a type of dental prosthesis used to replace one or more missing teeth. There are many types of bridges, and with proper care, and dental bridge can remain attached to the surrounding teeth for years.
Comprised of one or more artificial teeth, known as pontics, a dental bridge is held in place by dental crowns cemented onto the natural teeth, surrounding teeth, or implants on either side of the gap. Bridges can be made from various materials, but porcelain is most commonly used for its natural aesthetic.
The Types of Dental Bridges
Several types of dental bridges are available to suit different dental needs and preferences. These include:
Traditional Dental Bridge
The most common type of dental bridge, a traditional bridge, consists of a pontic or pontics held in place by dental crowns and cement. A traditional dental bridge could be applied following a tooth extraction to help you maintain good oral health.
Cantilever Bridge
Unlike traditional bridges, a cantilever dental bridge procedure only requires a single natural tooth or implant next to the missing tooth gap. The pontic is held in place by a dental crown cemented to a single abutment tooth.
Maryland Bridge
Maryland bridges use two natural abutment teeth, one on each side of the gap. However, instead of using dental crowns, a Maryland bridge uses a metal or porcelain framework bonded onto the backs of the abutment teeth. This type of bridge could help you replace a tooth that might have been lost due to tooth decay.
Implant-Supported Bridges
Implant-supported bridges offer a more durable and stable alternative to traditional bridges. Instead of being supported by natural teeth, these bridges are held in place by dental implants — usually one implant per missing tooth. Our dentist would be happy to discuss this option with you.
The process for placing implant-supported bridges is more complex and involves surgery to place the dental implants. This makes them a more time-consuming option, but the results can last a lifetime with good oral hygiene. Furthermore, the implants are anchored to your jawbone, which could help you preserve your structure.
Unlike traditional bridges, implant-supported bridges do not rely on adjacent natural teeth for support, which helps preserve the overall health of your teeth. They also provide better chewing efficiency and comfort compared to traditional bridges.
How We Place Dental Bridges
The process of placing a dental bridge involves several steps:
Preparation of the abutment teeth, which includes recontouring these teeth by removing a portion of enamel to allow room for a crown.
Impressions of your teeth are made, which will serve as a model from which the dental lab will create your bridge.
A temporary bridge will be made to wear to protect the exposed teeth and gums while your bridge is being made.
During the second visit, the temporary bridge is removed, and the new porcelain or metal bridge is checked and adjusted as necessary to achieve a proper fit.
Once the fit is perfect, the dental bridge is cemented into place.
We would love to discuss how a dental bridge could help you improve your dental health.
The Benefits of Dental Bridges
A dental bridge can help you maintain healthy teeth in a variety of ways, including:
Restore the ability to properly chew and speak
Maintain the shape of your face
Prevent remaining teeth from drifting out of position
Restore an attractive and functional smile
Distribute the forces in your bite properly
We would love to review whether a traditional or resin-bonded bridge, attached to the adjacent teeth, could be right for your dental health.
Schedule an Appointment With Ray Dental for Dental Bridges in Fort Collins, CO
Ray Dental is committed to providing top-tier dental services, including dental bridges, in Fort Collins, CO. With our team of experienced dental professionals, we will help you restore your smile and ensure your optimal oral health. We accept most forms of dental insurance, and we can help you restore your oral health while minimizing potential complications. Contact us today to schedule an appointment and learn more about our dental bridge options.