Athletic Mouthguards Fort Collins, CO.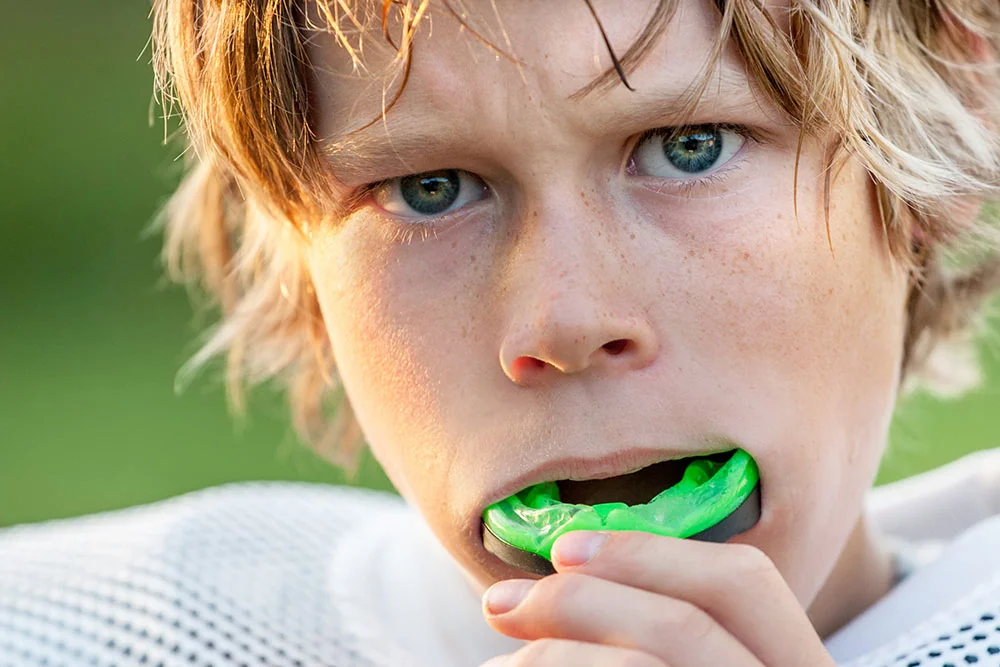 Athletic mouthguards are an essential piece of gear for anyone involved in sports, especially contact and collision sports. They serve a vital role in protecting players from dental injuries, allowing them to fully engage in their favorite activities with reduced risk.
At Ray Dental in Fort Collins, CO, we understand the importance of protecting your smile while you play. We specialize in providing custom mouthguards that fit perfectly and offer optimal protection.
How Does an Athletic Mouthguard Work?
An athletic mouthguard, often just referred to as a mouthguard, works by providing a protective barrier over your teeth. This barrier absorbs and distributes the forces from impact, preventing direct trauma to the teeth and surrounding tissues.
The effectiveness of a protective mouthguard is determined by its retention and fit. A mouthguard that doesn't fit properly can be uncomfortable and may not provide the required protection. This is where custom mouthguards come into play, as they are crafted to fit the unique structure of your mouth.
A custom mouthguard from a dentist is made from materials like ethylene-vinyl acetate (EVA), ensuring durability and comfort. Moreover, it can accommodate braces, providing protection without interfering with orthodontic treatment.
What Sports Require a Mouthguard?
Mouthguards are recommended for any sport that involves a risk of contact or collision. This includes popular sports like football, basketball, soccer, and lacrosse, where players often come into physical contact with each other.
However, it's not just these high-contact sports where a mouthguard is needed. Sports like gymnastics, volleyball, skiing, field hockey, boxing, ice hockey, handball, and even surfing pose risks for oral injuries due to falls, accidents, or collisions with equipment. The American Dental Association recommends wearing a mouthguard for all these sports-related activities to ensure protection.
Even in sports where mouthguards aren't mandated, it's advisable to use them. After all, accidents can happen in any sport, and it's better to be safe than sorry.
How Do We Craft Your Athletic Mouthguard?
Creating your custom athletic mouthguard at Ray Dental involves the following steps:
We start with a thorough dental examination.
An impression of your teeth is made.
Your mouthguard is molded from the impression using quality materials.
The Benefits of a Custom Athletic Mouthguard From Ray Dental
While there are many types of mouthguards, a custom guard from Ray Dental is the best answer. Some of the benefits of working with our dentistry team include:
Perfect Fit
A custom mouthguard provides a perfect fit. It's crafted from an impression of your teeth, ensuring a snug and comfortable fit. This allows for better retention and protection.
Accommodates Braces
Our custom mouthguards can accommodate braces. This is important as braces can be a risk factor for mouth injuries during sports.
Enhanced Durability
Our mouthguards are made from high-quality materials, ensuring they are durable and long-lasting.
Personalization
With our custom mouthguards, you can opt for personalization options like color and stickers. This can make wearing a mouthguard more appealing, especially for young athletes.
How To Protect Your Mouthguard
Proper care is essential to extend the life of your mouthguard. Always clean it before and after use and store it in a protective case. Avoid exposure to high temperatures, which can warp the mouthguard and affect its fit.
Remember to bring your mouthguard during your dental check-ups. Your dentist can inspect it for any signs of wear and tear and recommend replacement if necessary.
Get Your Custom Athletic Mouthguard at Ray Dental in Fort Collins, CO
Whether you're a seasoned athlete or a weekend sports enthusiast, Ray Dental is your partner in protecting your winning smile. Contact us today to get your custom athletic mouthguard and ensure your teeth are safeguarded in all your sporting endeavors.