Restorative Dentist Fort Collins, CO.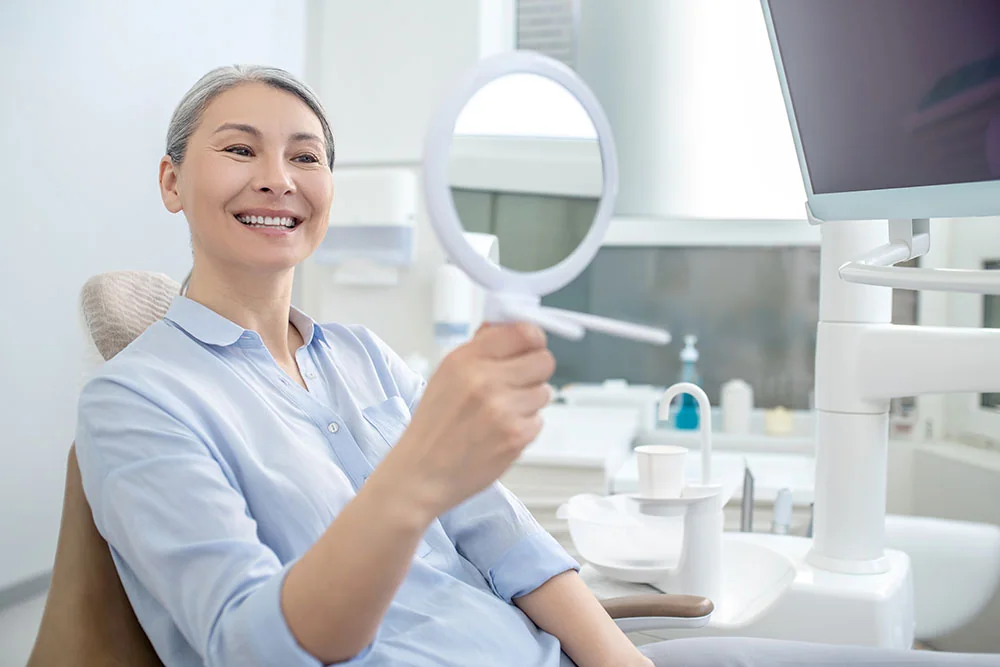 Dental health encompasses more than just regular cleanings and cavity fillings; it also includes repairing or replacing damaged or lost teeth. Restorative dentistry, a specialized area of dentistry, is key to maintaining the health, functionality, and appearance of your smile.
At Ray Dental, we are proud to serve the Fort Collins, CO community. We are committed to providing a comprehensive range of dental care, including restorative dentistry procedures, to ensure the longevity and aesthetics of your teeth.
What Is Restorative Dentistry?
Restorative dentistry encompasses a variety of procedures designed to restore the function and aesthetics of your natural teeth that have been damaged, decayed, or lost.
From fillings and crowns to dental implants and dentures, these restorative treatments aim to preserve the natural tooth structure whenever possible and restore oral health. The goal is to prevent further dental issues, enhance your smile, and improve overall dental health. We can discuss whether a dental bridge, partial dentures, and other forms of dental restoration could be right for you.
Types of Restorative Dentistry Procedures
There are several different types of restorative dentistry procedures that your dentist may recommend based on your individual needs.
Dental Fillings
When a tooth develops a cavity due to decay, a dental filling is often the best restorative treatment. The decay is removed, and the area is filled with a composite material or amalgam, restoring the tooth's structure and preventing further decay. We can discuss whether this dental procedure could be right for you.
Dental Crowns
A dental crown is used to restore the entire tooth when the damage or decay is too extensive for a simple filling. The crown, made of porcelain or other dental materials, is designed to look like your natural tooth, restoring both functionality and aesthetics.
Root Canal Therapy
In cases where the pulp or inner portion of a tooth becomes infected, root canal therapy is necessary. This restorative procedure involves removing the infected pulp, cleaning the area, and sealing it to prevent future infections.
Dental Implants
When a tooth is entirely missing, a dental implant can be a permanent solution. The titanium implant is surgically placed into the jawbone, and an artificial tooth (crown) is attached, replicating the appearance and functionality of a natural tooth.
The Benefits of Restorative Dentistry
Restorative dentistry offers numerous benefits:
Restores Functionality: Restorative procedures help restore the normal function of your teeth, allowing you to eat, speak, and smile without discomfort or difficulty.
Improves Aesthetics: Restorations like crowns, fillings, and implants are designed to mimic the appearance of natural teeth, enhancing the appearance of your smile.
Prevents Further Damage: By treating decayed or damaged teeth promptly, you can prevent further dental health issues.
Boosts Self-confidence: A healthy, fully functional smile can significantly enhance your self-esteem.
Why You Need Restorative Dentistry
Restorative dentistry is essential for maintaining your oral health. Cavities, if left untreated, can lead to more serious dental issues such as tooth abscesses or even tooth loss. Similarly, missing teeth can lead to shifting of adjacent teeth, loss of jawbone density, and changes in your facial structure over time.
Aside from the obvious oral health benefits, restorative dentistry also has a significant impact on overall health. Poor dental health has been linked to numerous health conditions, including heart disease, diabetes, and respiratory disease. By maintaining your oral health with restorative dentistry, you can help safeguard your overall well-being.
Additionally, restorative dentistry can greatly improve your quality of life by enhancing the appearance of your smile, improving speech and eating function, and boosting your self-confidence. Regardless of your age, maintaining a healthy, attractive smile is an important aspect of overall health and wellness.
Rely on Ray Dental for Restorative Dentistry in Fort Collins, CO
At Ray Dental, we are dedicated to helping our patients achieve the healthiest, most beautiful smiles possible. Our team of skilled clinicians is well-versed in all aspects of restorative dentistry and will work with you to develop a personalized treatment plan that suits your needs and preferences. Contact us today to schedule a consultation and let us help you protect and preserve your dental health.