Dental Veneers Fort Collins, CO.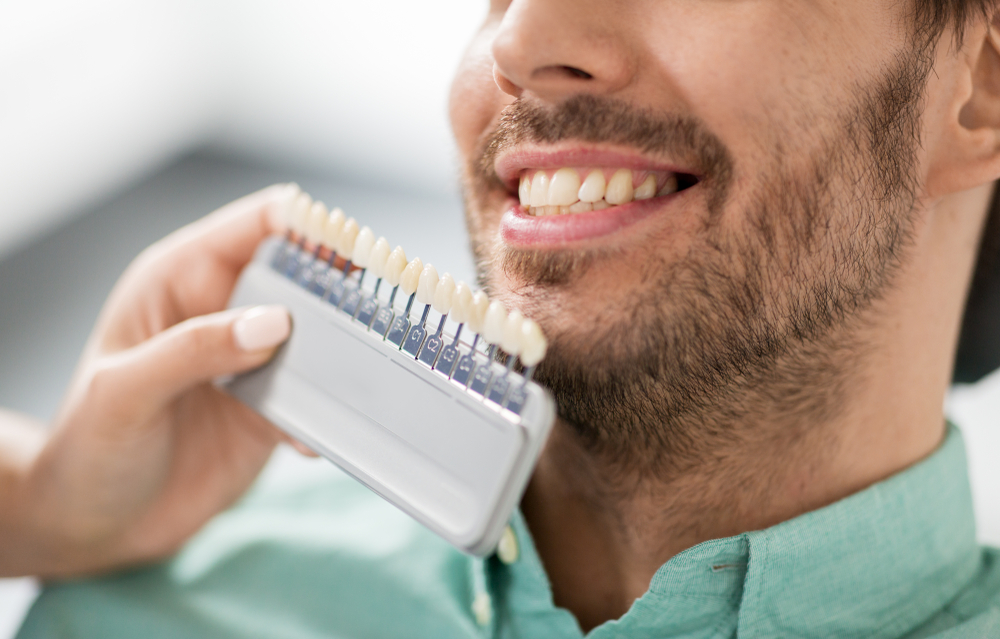 Achieving a perfect smile can be as easy as a visit to your dentist. For those looking to improve their smile's aesthetics, dental veneers offer a simple and effective solution. If you have concerns about your tooth structure, we may be able to apply dental veneers, a popular dental procedure in the field of cosmetic dentistry.
Learn more about how a composite veneer can improve your smile, and reach out to us to schedule an appointment.
What Are Dental Veneers?
Dental veneers are thin coverings made from porcelain or composite resin that are custom-made to fit over your natural teeth. These tooth-colored veneers are bonded to the front surface of your teeth, enhancing their shape, color, and overall appearance.
Porcelain veneers are known for their durability and resistance to stains, making them a popular choice among patients and dentists. On the other hand, composite resin veneers can be applied in a single visit, offering a quicker yet still effective solution for cosmetic concerns.
What Problems Can Dental Veneers Address?
Dental veneers can address a variety of dental issues, including:
Discoloration: Dental veneers can cover stains that cannot be removed by tooth whitening. Certain beverages, such as red wine, can lead to stains that are challenging to remove.
Worn enamel: Over time, the enamel can become worn, discolored, or dulled. Veneers can restore the look of healthy, shiny enamel.
Wear and tear: As we age, our teeth naturally wear down. Veneers can restore the natural appearance of the teeth.
Chipped or broken teeth: Veneers can cover and protect chipped or broken teeth.
Misaligned or irregularly shaped teeth: If your teeth are not aligned or irregularly shaped, veneers can provide a more harmonious and pleasing look to your smile.
Gaps between teeth: Veneers can be used to close gaps between your teeth.
One of the best parts of dental veneers is that they are generally applied without anesthesia, but a local anesthetic could be available if you wish. Reach out to us to learn more.
How Are Dental Veneers Applied?
The application of dental veneers generally requires three visits to the dentist. During the first visit, you'll have a consultation where your dentist will discuss the process and your treatment options. We may take x-rays of your teeth to ensure we have not missed or overlooked any issues, and we want to ensure there is no tooth decay before we apply the veneers.
During the second visit, your dentist will prepare your teeth for the veneers. The prep process involves a slight amount of tooth enamel removal from the surface to make room for the veneer. After the enamel is removed, a mold or impression of your teeth is taken. This mold is sent to a dental lab where your veneers will be custom-made.
The final visit involves the application of the veneers. Your dentist will temporarily place the veneers on your teeth to check their fit and color before permanently cementing them in place with a composite material. A special light is used to harden the cement and ensure the veneer is securely attached. We may ask you to come back for a follow-up appointment as well.
What Are the Benefits of Dental Veneers?
Cosmetic improvement: Veneers can dramatically improve your smile and overall facial appearance.
Stain resistance: Porcelain veneers are stain-resistant, making them a long-lasting solution.
Gum health: Veneers are made from materials that are tolerated well by the gums.
Customization: Veneers are custom-made to fit your teeth and match their natural color.
Durability: With proper care and good oral hygiene, dental veneers can last up to 15 years or longer. This means proper brushing, flossing, and using fluoride toothpaste to protect the veneers.
Tooth Sensitivity: If you have sensitive teeth, dental veneers may address the issue.
How Do I Know if I Need Dental Veneers?
If you're unsatisfied with the appearance of your smile due to the color, shape, size, or length of your teeth, dental veneers might be a suitable option for you. They are a particularly good solution for those with teeth that are discolored, worn, chipped, or misaligned.
However, dental veneers are a cosmetic procedure and may not be the best option for addressing oral health issues like cavities, gum disease, or root canals. Depending on the oral issue, we may discuss other options, such as braces, dentures, dental crowns, and even dental implants. We will compare them to veneers and help you decide which treatment option is best. A comprehensive consultation with your dentist is essential to determine the best treatment options for your specific needs and aesthetic goals.
Call Ray Dental for Dental Veneers in Fort Collins, CO
At Ray Dental, we're committed to helping our patients achieve their dream smiles. Our team of skilled professionals uses the latest dental technology to ensure you receive the highest standard of care. There are multiple types of veneers, and we will help you decide which choice is right for your needs. If you're considering dental veneers, contact us today to schedule a consultation. We're ready to help you transform your smile.