Implant Restoration Fort Collins, CO.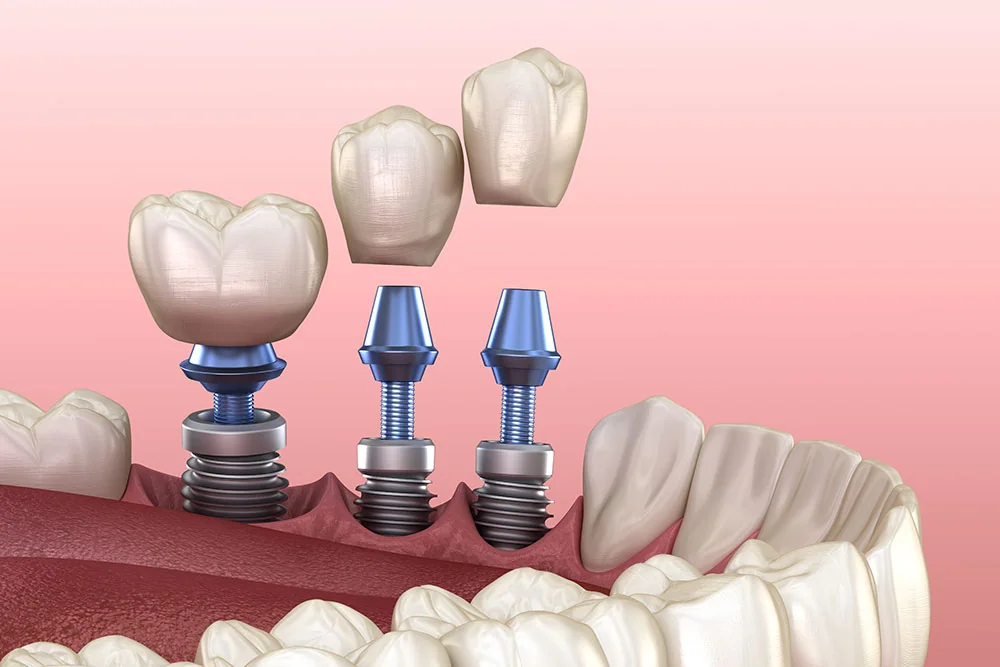 Restoring missing teeth and the consequent smile is essential for both aesthetic reasons and the patient's overall health. Dental implant restoration, a comprehensive solution for tooth loss, offers a natural-looking and permanent option.
At Ray Dental, we are here to take care of your dental needs in Fort Collins, CO. We offer various dental services, including dental implant restoration, to help our patients regain their beautiful smiles and maintain good oral health.
Dental Implants
A dental implant is a titanium post that is surgically placed into the patient's jawbone to act as a root for the missing tooth.
This titanium post, due to its biocompatible properties, fuses with the jawbone in a process known as osseointegration. An abutment is then attached to the post, onto which an artificial tooth, such as a dental crown or denture, is mounted. The result is a fully functional, durable, and visually pleasing replacement for the natural tooth.
Why Dental Implant Restoration Might Be Needed
Dental implant restoration might be needed due to various reasons:
Tooth loss due to decay, periodontal disease, or trauma
Discomfort or difficulty with traditional dentures
Jawbone loss due to missing teeth
How Implant Restoration Happens
The dental implant restoration process involves several steps:
Consultation and Treatment Plan: During the first step, the dentist conducts an evaluation, which includes x-rays, to assess your oral health and discuss your treatment plan.
Implant Placement: The dentist or oral surgeon places the titanium post into the jawbone.
Healing and Osseointegration: This period allows for the implant to fuse with the jawbone, providing a strong anchor for the artificial tooth.
Placement of the Abutment: Once healing is complete, an abutment is attached to the implant post.
Placement of the Dental Crown: Finally, the dentist places a custom-made dental crown onto the abutment, completing the restoration process.
Do You Need Help With Your Dental Implant?
Whether you've lost a tooth due to an accident, decay, or a dental procedure, dental implant restoration can help restore the functionality and aesthetics of your smile. Implants feel and function like natural teeth, providing comfort and ease when eating and speaking.
Moreover, dental implants can help prevent bone loss in the jaw, a common issue when teeth are missing for an extended period. They stimulate the bone similarly to natural teeth, promoting healthy bone growth and maintaining facial structure.
Good oral hygiene, regular dental check-ups, and a healthy lifestyle can ensure the longevity of your dental implants. With proper care, dental implants can last a lifetime, making them an excellent investment in your oral health and overall well-being.
Contact Ray Dental for Dental Implant Restoration in Fort Collins, CO
At Ray Dental, we are committed to helping our patients restore their smiles and improve their oral health. Our team of experienced professionals is proficient in performing dental implant restorations, offering personalized and comprehensive dental care. Contact us today to schedule an appointment, and let's embark on your journey to a healthier, more beautiful smile.