Emergency Dentist Fort Collins, CO.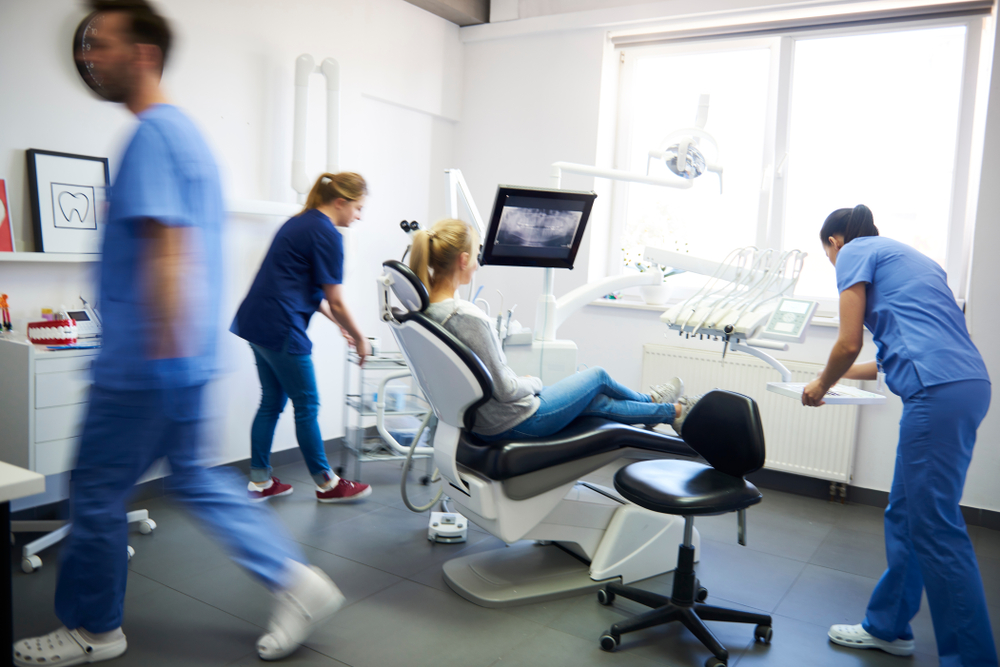 When dental emergencies strike, immediate attention is needed. These situations can be painful and scary, but it's important to stay calm and get the right dental care as quickly as possible. Whether it's a severe toothache or a knocked-out tooth, immediate care can prevent further damage and provide fast relief.
Ray Dental in Fort Collins, CO, understands the urgency of dental emergencies. Our emergency dentist services are designed to provide same-day relief for your dental needs. From tooth extractions to dental bridges, our dental service ensures you're back to your best as quickly as possible.
What Is a Dental Emergency?
A dental emergency is a dental problem that requires immediate attention from a dentist. It often involves severe pain, swelling, or bleeding and could include conditions such as a dental abscess or severe toothache. These conditions can significantly impact your oral health if not attended to promptly.
Emergencies can vary widely, from severe tooth pain that can't be managed with painkillers to dental trauma, such as a chipped tooth or a knocked-out tooth. Not all dental issues are emergencies, but any issue causing you severe pain or discomfort should be evaluated by an emergency dentist as soon as possible.
The Types of Dental Emergencies
Understanding the types of dental emergencies can help you know when to seek immediate care.
Severe Toothache
A severe toothache can be debilitating. It's often caused by cavities, an abscess, or dental trauma. If the pain is severe and cannot be alleviated with over-the-counter painkillers, it's crucial to visit an emergency dentist.
Knocked-Out Tooth
A knocked-out tooth is a clear dental emergency. Swift action can often save the tooth, especially if you get to the dentist's office within an hour. Handle the tooth carefully, avoid touching the root, and try to keep it moist.
Dental Abscess
A dental abscess is a pus-filled swelling caused by a bacterial infection in the mouth. It can cause severe pain, swelling, and bleeding. If left untreated, the infection can spread and become life-threatening.
What To Do if You Think You Have a Dental Emergency
If you think you have a dental emergency, don't panic:
Call your dentist immediately. Describe your symptoms accurately so they can advise you on the next steps.
If you can't reach your dentist, go to an urgent care center or hospital emergency room.
Apply a cold compress to the area to reduce swelling and numb the pain.
If a tooth is knocked out, try to place it back into the socket. If this isn't possible, keep the tooth moist in a cup of milk or water.
Recovering After a Dental Emergency
Recovery after a dental emergency depends on the nature of the problem and the treatment received. For example, if you've had a tooth extraction or root canal, you may experience some pain and swelling. Your dentist will likely prescribe painkillers and antibiotics to help manage discomfort and prevent infection.
It's important to follow your dentist's instructions carefully after treatment. This could include avoiding certain foods, maintaining a soft diet, and taking all medications as prescribed. You should also keep up with good oral hygiene practices, such as brushing and flossing, to promote healing and prevent further dental issues.
Remember, your dentist is your partner in recovery. Don't hesitate to reach out with any questions or concerns during your recovery process.
Call Ray Dental for Emergency Dental Services in Fort Collins, CO
Don't let a dental emergency leave you in pain. At Ray Dental, we are here for you when you need us the most. If you believe you are experiencing a dental emergency, give us a call today to speak to our team!