Oral Surgeon Fort Collins, CO.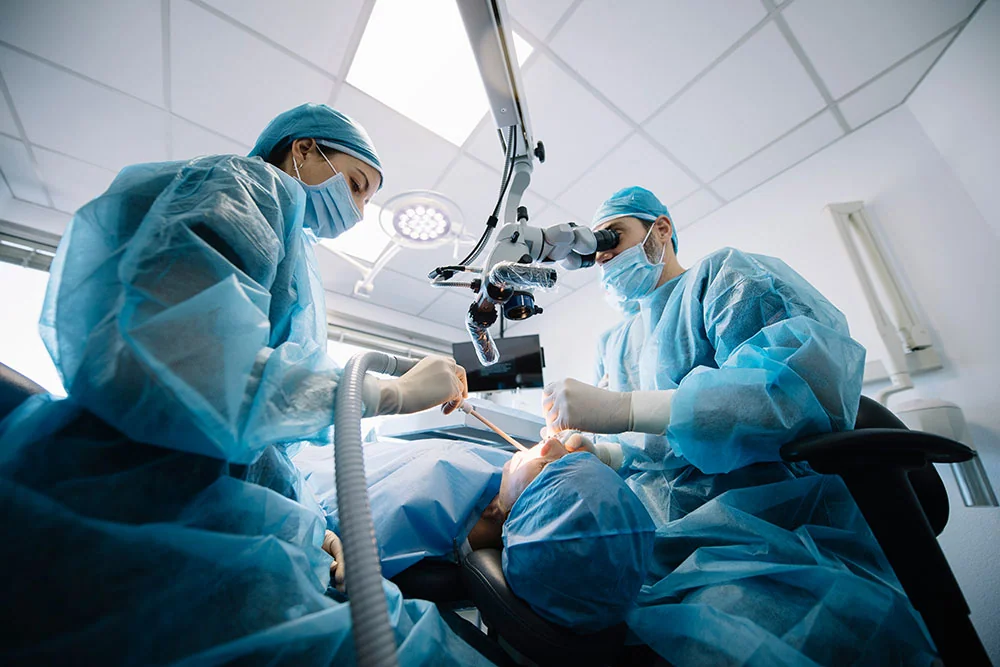 Oral surgery is a specialized area of dentistry that deals with the diagnosis and surgical treatment of diseases, injuries, and defects of the oral and maxillofacial region. It covers a broad range of procedures, from simple tooth extraction to more complex procedures, such as orthognathic surgery.
At Ray Dental in Fort Collins, CO, our team of qualified dentists and oral surgeons is committed to ensuring the best possible care for our patients. Equipped with the latest techniques and technologies, we provide a full scope of oral and maxillofacial surgery services tailored to meet your unique oral health needs.
An Overview of Oral Surgery
Oral surgery encompasses a variety of surgical procedures aimed at improving oral health. These procedures range from routine tooth extractions to more complex surgeries such as corrective jaw surgery and dental implant placement.
Oral and maxillofacial surgery also extends to the treatment of oral pathologies, such as cysts and tumors of the jaws. It includes surgical procedures to treat gum disease, perform gum grafts, manage impacted wisdom teeth, and even handle more intricate cases involving cleft palate correction or airway obstruction due to sleep apnea.
The type of anesthesia used during the surgical procedure, be it local anesthesia, sedation, or general anesthesia, is chosen based on the type of surgery and the patient's comfort and safety. This ensures that the patient experiences minimal discomfort during the procedure.
The Different Types of Oral Surgery
There are several types of oral surgery we offer at Ray Dental, including:
Tooth Extractions
Tooth removal is one of the most common types of oral surgery. It involves the removal of a tooth from its socket in the gum line. This procedure is commonly performed for impacted wisdom teeth, severe tooth decay, or preparation for orthodontic treatment.
Dental Implants
Dental implants are a popular solution for tooth loss. An oral surgeon inserts a small titanium post into the bone socket of the missing tooth, which provides a sturdy base for a replacement tooth. It's a great alternative to dentures for those seeking a long-term solution.
Orthognathic Surgery
Orthognathic surgery, also known as corrective jaw surgery, is performed to correct a range of minor and major skeletal and dental irregularities, including misalignment of jaws and teeth. This surgery can improve chewing, speaking, and breathing function.
Gum Graft
A gum graft is a type of oral surgery often performed by a periodontist to treat gum recession caused by gum disease. It involves the transplantation of gum tissue to areas where it has worn away.
Who Needs Oral Surgery?
Individuals might need oral surgery if they display the following signs:
Persistent jaw or tooth pain
Difficulty opening or closing the mouth
Recurring headaches or migraines
Sleep apnea unresponsive to a CPAP machine
Visible infection or swelling in the mouth area
Oral Surgery: The General Steps Involved
The following are the general steps involved in oral surgery:
Initial consultation and examination
Discussion of surgical options and anesthetic choices
Scheduling and preparation for the surgery
The surgical procedure
Follow-up care and recovery
Recovering From Oral Surgery
The recovery process after oral surgery depends on the type of procedure performed. After surgery, it is common to experience some discomfort and swelling. Pain management usually involves over-the-counter or prescription medications as directed by your oral surgeon.
In the initial days following surgery, a diet of soft foods is recommended. You should also maintain proper oral hygiene, though you may need to be gentle in the surgical area.
Regular follow-up appointments will be scheduled to monitor your healing progress. During these visits, your oral surgeon will provide guidance on when you can return to normal activities and diet.
Do You Think You Need Oral Surgery? Ray Dental Is Here To Help
If you are experiencing oral discomfort, or if you think you may need oral surgery, don't hesitate to reach out to us. Our expert team at Ray Dental is here to guide you through every step of the process, from diagnosis to recovery. We pride ourselves in providing top-quality oral surgical care to help you maintain your winning smile. Contact us today to schedule your consultation.