Dental Crowns Fort Collins, CO.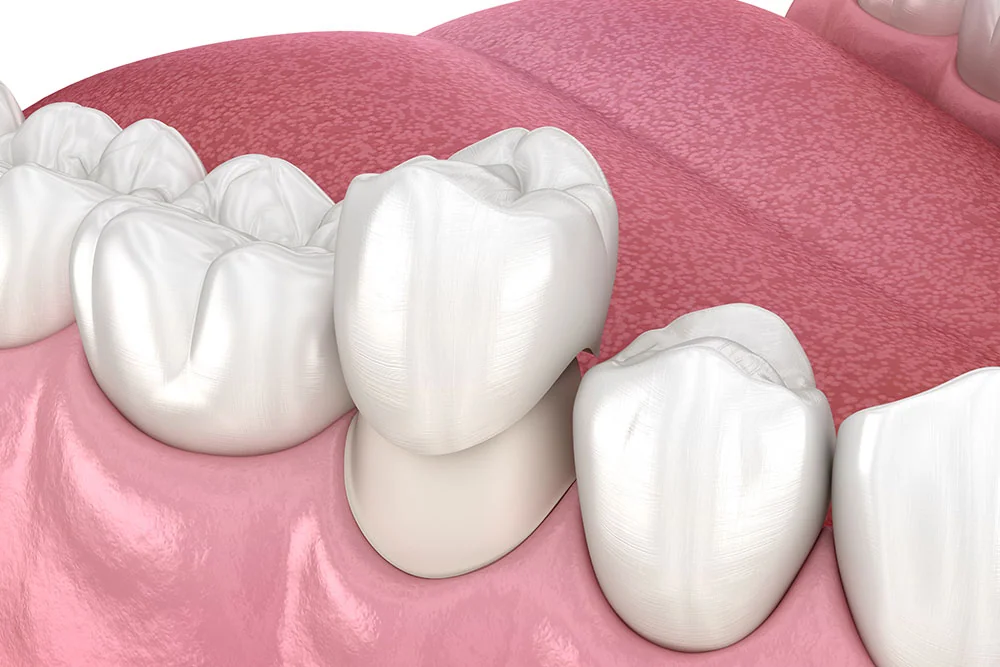 In the journey towards optimal oral health and a beautiful smile, various dental procedures may come into play. One common, versatile, and highly effective treatment is the dental crown. Dental crowns can repair, protect, and enhance your smile, restoring both functionality and aesthetics.
Ray Dental, a leading dental practice in Fort Collins, CO, prides itself in offering a comprehensive range of dental services, including the placement of dental crowns. Our team of professional dentists is dedicated to providing individualized treatment plans to meet the unique needs of our patients. Learn more about the different types of dental crowns we offer, and count on us to help you protect and preserve your teeth.
What Are Dental Crowns?
A dental crown, also known as a cap, is a type of dental restoration that fully covers a damaged tooth or dental implant.
Dental crowns can be made from various materials such as ceramic, porcelain, resin, or metals like gold and other alloys. The choice of material depends on factors such as the location of the tooth, patient's preference, and the amount of the tooth that shows when you smile. The primary goal is to ensure the crown fits perfectly and blends seamlessly with the natural teeth for a natural and pleasing appearance.
The Top Reasons You Might Need a Dental Crown
There are multiple reasons why a dental crown might be necessary:
Protecting a weak tooth from further damage or decay
Restoring a broken or severely worn-down tooth
Covering and supporting a tooth with a large filling
Holding a dental bridge in place
Enhancing the appearance of misshapen or severely discolored teeth
Whether you have fractures in your molars, severe tooth decay, or even require a root canal, we can help you figure out which type of crown is right for your needs. We can help you address discomfort, chipping, and large cavities with dental crowns.
How We Place Dental Crowns
The procedure of placing a dental crown typically involves a few steps spread over multiple dental visits:
First Visit: Examination and Preparation: The dentist will take x-rays and administer local anesthetic. The tooth is then reshaped, and an impression or mold is made for the dental lab.
Creation of the Crown: The mold is sent to a dental lab, where your permanent crown is fabricated.
Temporary Crown: Meanwhile, a temporary crown is fitted to protect the prepared tooth.
Second Visit: Placement of the Permanent Crown: Once the permanent crown is ready, the dentist removes the temporary crown, ensures the new crown fits well, and uses cement to lock it in place.
Once the crown is in place, we will provide you with aftercare instructions, We may recommend avoiding hard foods for a certain amount of time, and we will recommend brushing and flossing meticulously to protect your teeth and gums.
Keep in mind that there are different types of crowns as well. We can discuss whether zirconia crowns, resin crowns, ceramic crown, porcelain-fused-to-metal (PFM) crowns, or even a metal crown is right for protecting the enamel of your natural tooth.
CEREC Crowns
At Ray Dental, we are pleased to offer CEREC (Chairside Economical Restoration of Esthetic Ceramics) crowns, a state-of-the-art solution that allows us to create your custom crown in a single visit. CEREC utilizes CAD (Computer-Aided Design) technology to design the crown, which is then milled from a ceramic block in our office.
This advanced process eliminates the need for temporary crowns or second visits, saving our patients valuable time. Moreover, ceramic CEREC crowns are metal-free, highly aesthetic, and blend seamlessly with your natural teeth. We can even review same-day options with you.
CEREC crowns are also extremely durable and are less prone to cracks and flaws than traditional porcelain crowns. This durability, coupled with proper oral hygiene, can make CEREC crowns last for many years.
How long will it take before I see results from my new dental crowns?
Results from new dental crowns will be visible immediately. However, it may take a few days to get used to the feel of the crowns in your mouth. Your dentist may also advise you to avoid certain foods and drinks for a short period after getting the crowns placed.
Contact Ray Dental for Dental Crowns in Fort Collins, CO
When it comes to dental crowns in Fort Collins, CO, Ray Dental stands out for its expertise and personalized approach to patient care. Our team of dedicated dental professionals is committed to helping you achieve and maintain a healthy and beautiful smile. Dental crowns are a crucial part of dentistry, and we have multiple options available, including PFM crowns or even a gold crown. We can even provide recommendations on dental floss and toothpaste after the crown is in place.
Contact us today to schedule your consultation and let us help you on your journey towards optimal oral health.