Teeth Whitening Fort Collins, CO.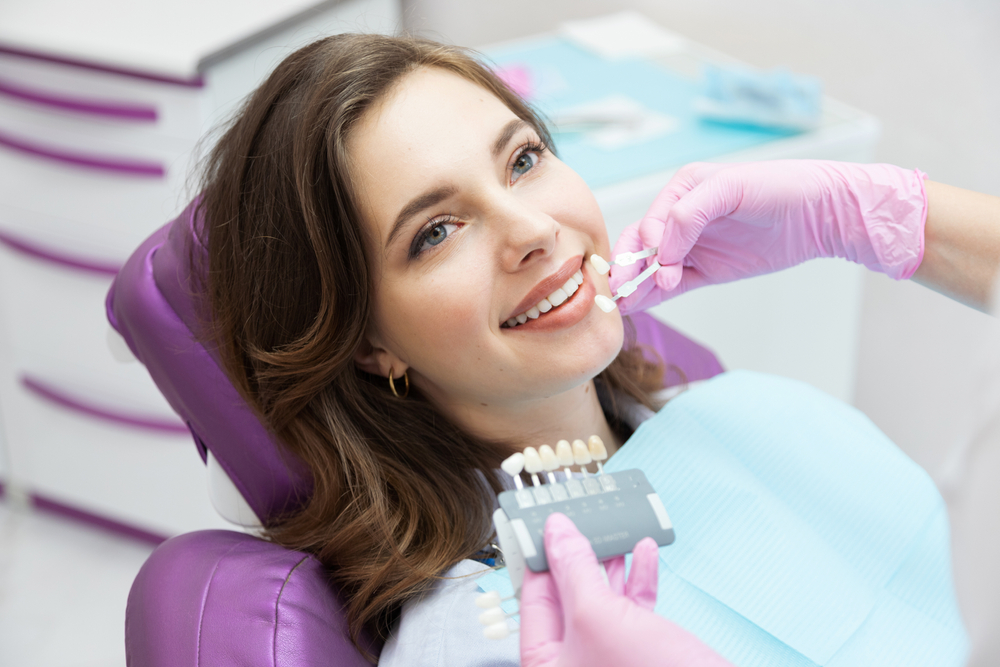 A bright, white smile isn't just a sign of good oral health; it's also a boost to your confidence and self-esteem. Thanks to teeth whitening, you can shed the stains and discoloration that can dull your smile over time.
At Ray Dental, we can help you obtain whiter teeth using the best treatment options available today. Learn more about the benefits of our teeth whiteners, and reach out to us today to schedule an appointment.
What Is Teeth Whitening?
Teeth whitening is a cosmetic dentistry procedure that lightens teeth and helps remove stains and discoloration. The treatment can significantly improve the color of your natural teeth. Whitening products use either hydrogen peroxide or carbamide peroxide as active ingredients. These bleaches break stains into smaller pieces, making the color less concentrated and your teeth brighter.
Many people believe that an at-home teeth whitening kit is better than a whitening treatment provided by a best. You should always rely on a professional dentist for tooth whitening instead or at-home whitening or over-the-counter teeth whitening.
Why Are My Teeth Stained?
There are various reasons for teeth staining. The outer layer of your teeth, known as enamel, can be stained over time due to the food and drinks you consume. Beverages like coffee, tea, red wine, and soda are notorious for causing tooth discoloration.
Smoking and tobacco use also stain your teeth. The nicotine and tar in tobacco can turn your teeth yellow or brown over time.
Another contributing factor is poor oral hygiene. Regular brushing, flossing, and dental check-ups can help prevent surface stains, but neglecting these can lead to yellow or brown teeth.
Why Is In-Office Teeth Whitening Better Than Over-The-Counter?
Over-the-counter (OTC) teeth whitening products like toothpaste, strips, and gels can lighten your teeth. However, in-office whitening treatments offer several advantages. Firstly, dentists use professional-grade whitening agents that are more potent than those in OTC or DIY products. As a result, in-office whitening can achieve faster and more significant results.
Secondly, in-office whitening is safer. Your dentist will apply a protective gel or shield to your gums before starting the treatment, reducing the risk of irritation or tooth sensitivity. They can also adjust the intensity of the treatment, minimizing side effects. If you want to avoid sensitive teeth, count on Ray Dental for help with teeth whitening.
Lastly, in-office treatments ensure uniform whitening. Self-applied OTC products, or options from Amazon, may not cover every tooth evenly, leading to inconsistent results (one of the major cons). In contrast, a dental professional can evenly apply the whitening product to all visible teeth. This is a crucial part of oral care, and we only make recommendations with the ADA Seal of Acceptance (the American Dental Association).
What Are the Benefits of Teeth Whitening?
Enhanced Appearance: Teeth whitening can remove years of stains, giving you a brighter, more attractive smile.
Boosted Self-confidence: A whiter smile can improve your self-esteem and make you more confident in social and professional settings.
Minimized Look of Wrinkles: A brighter smile can draw attention away from wrinkles and age lines, making you appear younger.
Better Oral Health: Although teeth whitening is primarily cosmetic, the process can motivate you to maintain better oral hygiene to keep your teeth whiter for longer.
How Does Teeth Whitening Happen in the Office?
In-office teeth whitening usually takes about 60 to 90 minutes and can make your teeth several shades lighter in a single session. The first step is a thorough cleaning to remove any plaque or tartar on your teeth's surface.
Then, a protective barrier is applied to your gums to protect them from the whitening gel. The whitening gel is then applied to the teeth; this gel contains a high concentration of peroxide, which is activated using an LED light to break down stains and discoloration.
After 15-20 minutes, the gel is removed, and the process is repeated 1-2 more times. Once the desired shade has been achieved, the dentist will apply a fluoride paste to your teeth to reduce sensitivity. Our goal is to not only whiten your teeth but also protect and preserve your dentin and calcium to prevent cavities and tooth decay down the road.
Trust Ray Dental for the Best Teeth Whitening in Fort Collins, CO
At Ray Dental, we are committed to helping you achieve the smile of your dreams. Once the procedure is done, we may recommend a whitening toothpaste with a bleaching agent, baking soda, sodium bicarbonate, or even a peroxide-based agent to help you protect your teeth from getting stained in the future. We can even recommend a mouthwash rinse, if you prefer. We can even make recommendations on which toothbrush you should use. Our goal is to not only whiten your tooth enamel but to prevent the stains from coming back on restorations.
If you're ready to restore your smile, confidence, and self-esteem with professional teeth whitening, give us a call or email us today to schedule your appointment. We look forward to providing you with exceptional dental care.