Dentures Fort Collins, CO.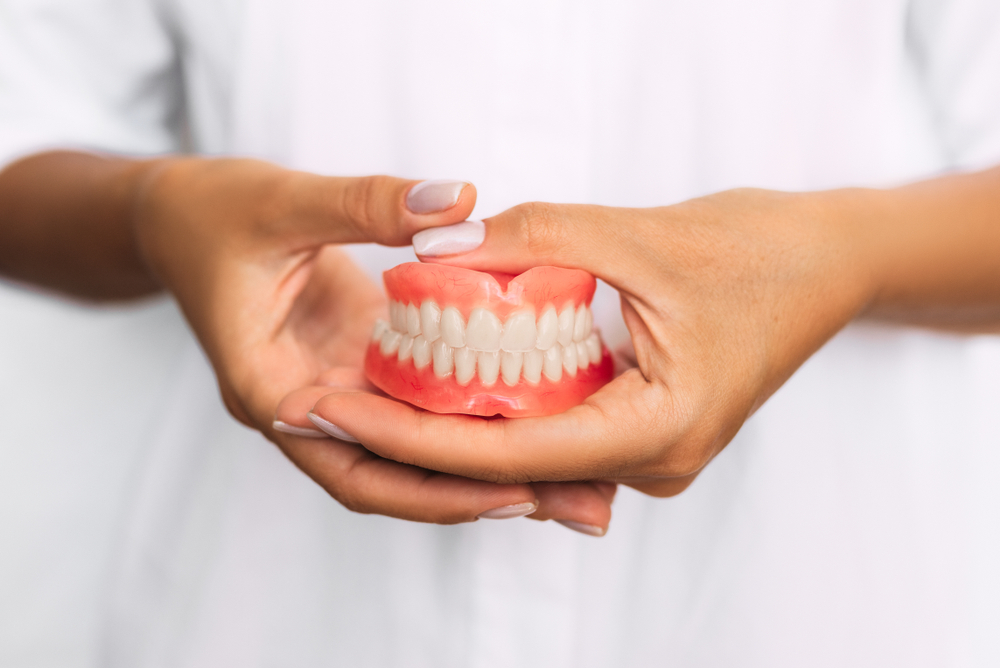 If you've lost some or all of your natural teeth, you're not alone. Millions of people face the challenge of tooth loss due to tooth decay, gum disease, or injury. However, it's essential to replace missing teeth, and dentures are a time-tested solution that can restore both function and beauty to your smile.
At Ray Dental in Fort Collins, CO, we provide high-quality dentures that are tailored to fit comfortably and look natural. Our experienced team is committed to helping patients regain their confidence and improve their oral health through personalized dental care.
What Are Dentures?
Dentures are removable appliances that can replace missing teeth and the surrounding tissues. The type of denture you need will depend on the number of teeth that are missing, the overall models of your jaw, and whether you want permanent dentures or a removable denture.
Comprised of artificial teeth attached to a pink or gum-colored plastic base, dentures can help individuals regain their normal eating and speaking habits and restore the appearance of their face, which can sag without the support of teeth. They also contribute to improved dental health by supporting the lips and cheeks and reducing the risk of shifting teeth.
The Types of Dental Dentures
There are two main types of dentures: full and partial. The type you'll need will depend on how many natural teeth you still have. When you meet with us, our dentist will discuss the different types of dentures with you.
Full Dentures
Full dentures, or complete dentures, are used when all the patient's teeth are missing. These conventional dentures include an upper denture covering the roof of your mouth and a lower denture shaped like a horseshoe to accommodate your tongue. They sit firmly against your palate and can improve the appearance of your face.
Partial Dentures
Partial dentures are used when one or more natural teeth remain in the upper or lower jaw. They consist of replacement teeth attached to a plastic base connected by a metal framework that holds the denture in place in the mouth. While they still provide you with sturdy false teeth, they also allow you to use your natural teeth.
Implant-Supported Dentures
Implant-supported dentures offer an alternative to traditional dentures. They are a type of overdenture attached to and supported by dental implants.
They are used when a person does not have any teeth in the jaw but has enough jawbone to support implants. Implant-supported dentures are usually more stable than regular dentures, providing improved comfort and functionality. They typically use clasps to join the surfaces of the dentures to the implants themselves.
Two types of implant-supported dentures are available: bar-retained and ball-retained. In both types, the denture will be made of an acrylic base that looks like gums, with porcelain or acrylic teeth that look like natural teeth. They could be a good option for people who don't want the feel the dentures slipping or sliding around in the mouth.
How We Create Dentures To Meet Your Needs
The process of creating dentures involves several steps:
A thorough dental exam, including x-rays to assess the health of the jawbone at a preliminary visit
Impressions of the patient's jaws and measurements of how the jaws relate to one another
Creating models, wax forms, or plastic patterns in the exact shape and position of the denture
Fitting these models to the patient to assess the color, shape, and fit before the final denture is cast
Cast and fit of the final denture, making necessary adjustments for a perfect fit
The Benefits of Dentures
Restore the ability to chew properly, improving nutrition and overall health
Improve speech that may have been affected by missing teeth
Enhance the smile and facial appearance
Prevent remaining teeth from shifting position
Provide a cost-effective solution to missing teeth
Contact Ray Dental for Dental Dentures in Fort Collins, CO
If you're seeking a reliable solution for missing teeth, contact Ray Dental in Fort Collins, CO. Our experienced team is ready to assist you in finding the best denture solution for your needs and preferences. We are dedicated to helping you restore your smile, improve your oral health, and regain your confidence. Schedule your consultation today!