Invisalign® Fort Collins, CO.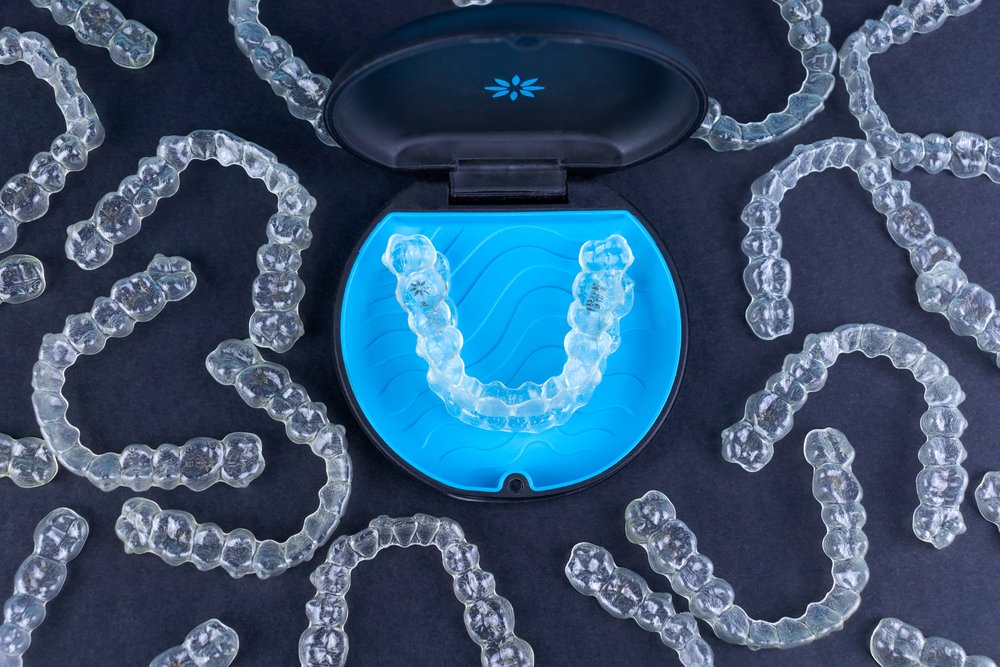 A beautiful smile is often the first thing people notice about you, and it can significantly impact your confidence and self-esteem. If crooked teeth or alignment issues are preventing you from sharing your smile with the world, consider the revolutionary Invisalign treatment.
At Ray Dental in Fort Collins, CO, we specialize in transforming smiles using Invisalign, helping our patients achieve the straight, beautiful teeth they've always desired. Learn more about Invisalign below, and give us a call to schedule an appointment.
What Is Dental Invisalign?
Invisalign is a modern orthodontic treatment that offers an attractive alternative to traditional metal braces. It uses clear plastic aligners, custom-made for each patient, to gradually move teeth into the proper position. Unlike metal braces with brackets and wires, Invisalign aligners are nearly invisible, offering a discreet way to straighten your teeth.
The aligners are removable, allowing patients to eat, brush, and floss normally, which significantly improves oral hygiene. Moreover, because they're made of smooth plastic, Invisalign aligners cause less discomfort and irritation to the gums and cheeks than traditional braces.
Who Needs Invisalign?
Invisalign treatment is a versatile solution that can address a wide range of orthodontic problems. It's ideal for individuals who have mild to moderate cases of crooked teeth, overbite, underbite, or gaps between their teeth. Each new set of aligners moves your teeth incrementally, and over time, your teeth will shift into their final, desired position.
For more complex orthodontic issues, traditional braces might still be the best option. However, Invisalign technology continues to advance, and the range of conditions it can treat is constantly expanding. Therefore, even if you've been told in the past that Invisalign isn't suitable for you, it may be worth revisiting this treatment option.
Remember that while Invisalign is popular among teenagers and adults due to its near-invisibility, it requires a certain level of responsibility. Since the aligners need to be worn for 20-22 hours each day and changed every two weeks, patients must be committed to following their treatment plan for optimal results.
How We Create Your Invisalign Clear Aligners
Consultation: Visit Ray Dental for a free consultation to discuss your treatment options and determine if Invisalign is the right solution for you.
Digital Impressions and Treatment Plan: We'll take digital x-rays and impressions of your teeth to create a detailed 3D image. We then develop a precise treatment plan, including the exact movements of your teeth and the expected duration of treatment.
Creation of Custom Aligners: Your custom Invisalign aligners are made using advanced digital mapping and molding technology.
Wearing Your Aligners: You'll wear each set of aligners for about two weeks, removing them only to eat, brush, and floss.
Progress Check-ups: Regular check-ups at our dental office are essential to monitor your progress and receive your next set of aligners.
What Are the Benefits of Invisalign?
Almost Invisible: The clear aligners are barely noticeable, allowing you to straighten your teeth discreetly.
Comfort: Without metal brackets or wires, Invisalign aligners are more comfortable to wear.
Convenience: The aligners are removable, so you can eat whatever you want and maintain your normal oral hygiene routine.
Predictability: With 3D imaging, you can see your expected results before starting the treatment.
Call Ray Dental for Dental Invisalign in Fort Collins, CO
Ready to achieve a perfect smile without the inconvenience and embarrassment of traditional braces? At Ray Dental, we're committed to helping our patients in Fort Collins, CO, enjoy the benefits of Invisalign. Contact us today to schedule your free consultation, and let us help you straighten your teeth and improve your smile!